NFERA SUPREME
UHP & Touring HP Allseason
---
Enjoy a smooth ride, all year long.
The upgraded Nexen Nfera Supreme combines the look of a performance tire with the comfortable, quiet ride of a passenger tire. Branded with the M+S symbol, this tire provides year-round traction, even in light snow. And with its long tread life, the Nexen Nfera Supreme can handle some serious mileage.
Try the tire that looks great and performs even better.
PRODUCT LEAFLET DOWNLOAD (PDF)
Description
THIS TIRE IS DESIGNED TO PERFORM…

BRAKING
8

COMFORT
10

FUEL
8

HANDLING
8

WEAR LIFE
10

SNOW TRACTION
7
WARRANTY
The NexenTotal Coverage Warranty offers the following benefits: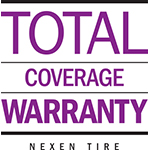 Tread Wear
Mileage Warranty
115,000(H&V) Km
90,000(W) Km

Limited Road
Hazard Warranty
First 3/32" or 2 Years

Roadside
Assistance
36 months
SIZE AND SPECS
Inch
Size
XL
Load Index
Speed
Code
16
195/50 R16
84
V
18279
205/55 R16
91
V
18251
205/60 R16
XL
96
V
18579
205/65 R16
95
V
18580
215/55 R16
XL
97
H
18274
215/60 R16
95
V
18577
225/55 R16
XL
99
W
18576
225/60 R16
98
V
18584
17
205/45 R17
XL
88
W
18578
205/50 R17
XL
93
V
18281
215/45 R17
87
W
18280
215/50 R17
XL
95
W
18286
215/55 R17
94
V
18284
215/60 R17
96
H
18245
215/65 R17
99
H
18239
225/45 R17
91
W
18250
225/50 R17
94
W
18287
225/55 R17
97
W
18288
225/60 R17
99
H
18238
225/65 R17
102
H
18229
235/45 R17
XL
97
W
18260
235/50 R17
96
V
18268
235/55 R17
99
V
18254
235/60 R17
102
H
18235
235/65 R17
104
H
18231
245/40 R17
91
W
18220
245/45 R17
XL
99
W
18256
245/65 R17
107
H
18248
18
215/45 R18
XL
93
W
18285
215/55 R18
95
H
18283
225/40 R18
XL
92
W
18293
225/45 R18
XL
95
W
18273
225/50 R18
XL
99
W
18282
225/55 R18
98
V
18258
225/60 R18
XL
104
H
18241
235/40 R18
XL
95
W
18264
235/45 R18
XL
98
W
18275
235/50 R18
97
W
18252
235/55 R18
100
V
18228
235/60 R18
XL
107
V
18255
235/65 R18
106
V
18240
245/40 R18
XL
97
W
18269
245/45 R18
XL
100
W
18266
245/50 R18
100
W
18292
245/60 R18
105
V
18249
255/35 R18
XL
94
W
18267
255/55 R18
XL
109
V
18224
255/60 R18
108
V
18583
265/35 R18
XL
97
W
18244
265/60 R18
110
V
18225
275/40 R18
XL
103
W
18581
19
225/40 R19
XL
93
W
10379
225/45 R19
XL
96
W
18232
225/55 R19
99
V
18242
235/35 R19
XL
91
W
18585
235/40 R19
XL
96
W
18271
235/45 R19
XL
99
W
18277
235/50 R19
XL
103
V
18243
235/55 R19
XL
105
V
18291
245/40 R19
XL
98
W
18289
245/45 R19
XL
102
W
18257
245/55 R19
103
V
18247
255/35 R19
XL
96
W
10358
255/40 R19
XL
100
W
18290
255/45 R19
XL
103
V
18261
255/50 R19
XL
107
V
18237
255/60 R19
109
H
18226
265/55 R19
XL
113
W
18606
275/40 R19
XL
105
W
18272
20
235/55 R20
102
V
18253
245/35 R20
XL
95
W
18263
245/40 R20
XL
99
W
18262
245/45 R20
XL
103
W
18270
245/50 R20
102
V
18221
255/35 R20
XL
97
W
18230
255/45 R20
XL
105
W
18259
255/50 R20
XL
109
V
18278
255/55 R20
XL
110
V
18223
265/45 R20
XL
108
V
18227
265/50 R20
107
V
18233
275/40 R20
XL
106
W
18276
275/45 R20
XL
110
V
18234
315/35 R20
XL
110
W
10363
22
265/40 R22
XL
106
W
18582